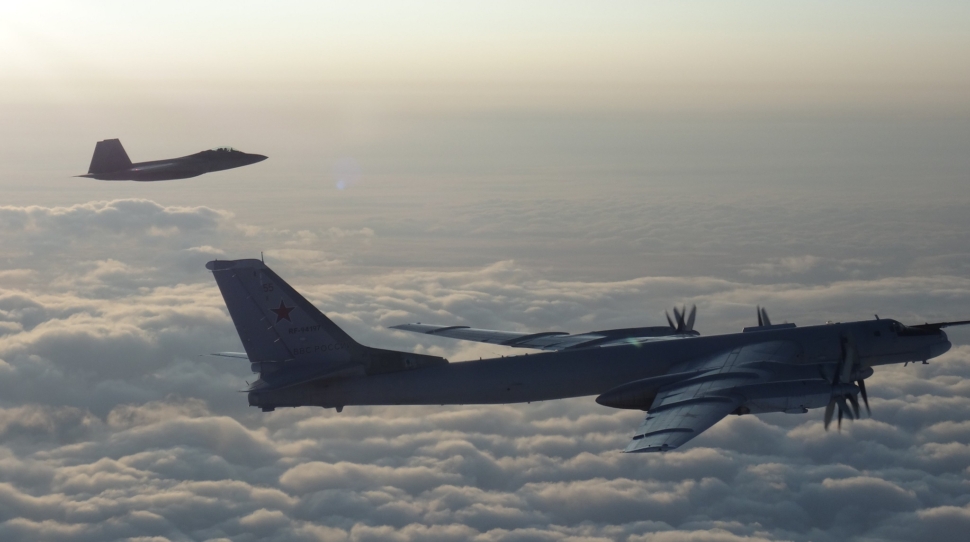 Amerykańskie myśliwce przechwyciły dwa rosyjskie bombowce Tu-95 w międzynarodowej przestrzeni powietrznej u wybrzeży Alaski.

O poderwaniu w powietrze amerykańskich maszyn poinformowało w czwartek Północnoamerykańskie Dowództwo Obrony Powietrznej (North American Aerospace Defense Command, NORAD).

"Dwa myśliwce F-22 i dwa myśliwce CF-18 wspierane przez E-3 Sentry, KC-135 Stratotanker i tankowiec C-130 pozytywnie zidentyfikowały i przechwyciły dwa bombowce Tu-95 wkraczające w ADIZ [strefę identyfikacyjną obrony powietrznej – red.] Alaski i Kanady" – podało amerykańskie dowództwo na Twitterze.


Two F-22 and two CF-18 fighter aircraft supported by an E-3 Sentry, a KC-135 Stratotanker and a C-130 Tanker from the NORAD positively identified and intercepted two Tu-95 Bear bombers in the Alaskan and Canadian ADIZ on Aug. 8th. pic.twitter.com/SebmJtMiTu

— North American Aerospace Defense Command (@NORADCommand) August 8, 2019
Jak dodano, rosyjskie samoloty pozostawały w międzynarodowej przestrzeni powietrznej i ani przez moment nie naruszyły ​​amerykańskiej lub kanadyjskiej przestrzeni powietrznej.

Jest to drugi znany przypadek przechwycenia rosyjskich samolotów wojskowych u wybrzeży Ameryki Północnej w sierpniu br. Na początku tego miesiąca amerykańskie myśliwce towarzyszyły dwóm rosyjskim samolotom do zwalczania okrętów podwodnych Tu-142, które pojawiły się w strefie identyfikacyjnej obrony powietrznej Alaski.
North American Aerospace Defense Command identified a group of two Tu-142 Russian maritime reconnaissance anti-submarine warfare aircraft entering the Alaskan Air Defense Identification Zone on Thursday, Aug. 1, 2019.

— North American Aerospace Defense Command (@NORADCommand) August 2, 2019
CZYTAJ TAKŻE: Bombowiec strategiczny USA przeleciał nad Polską po spotkaniu z rosyjskimi myśliwcami [+VIDEO]
https://kresy.pl/wydarzenia/regiony/ameryka/mysliwce-usa-przechwycily-dwa-rosyjskie-bombowce-w-poblizu-alaski/